Hi, it's Chark here today, friends, and I just received a new stamp from a2z Scrapbooking that I had to ink up. Don't you love getting stampy mail?! My purchase was the beautiful Hero Arts Basic Grey Waves stamp here.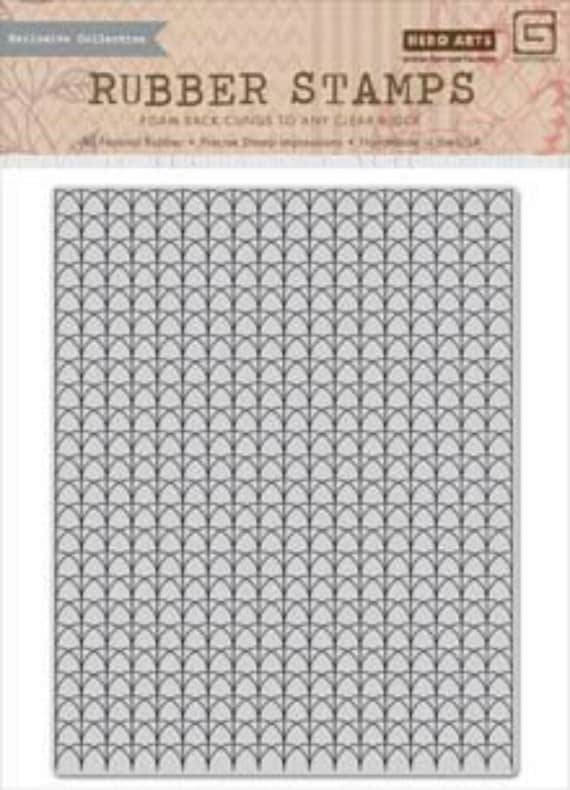 It's so delicate but fun too. I used Silver Stazon ink to stamp on patterned paper and then trimmed it to fit a little birthday treat bag I made. I applied Stickles through the Numbers Background Stencil and then trimmed it for the treat bag once it dried.
I love the sparkle, but using Stickles was messy on the stencil. I think next time I'll apply embossing paste, remove the stencil and then sprinkle glitter on top. That way my stencil doesn't get glitter all over it. Just a little hint from me to you.
The final layer are the Three Dotted Flowers stamps. I layered them after stamping and using watercolors. I applied Diamond Stickles to the middle flower because, well, Stickles!
To make this little treat bag, you can take a 5.5″ square card like I did above or cut a piece of cardstock 5″x11″ like this one. Score the middle in the center and score 1″ on either side of the first line. Fold on the score lines like this.
Then score at the top for a fold over edge. Take a 1″ circle punch and punch the top. This is where the cellophane bag will stick out at the top once you've adhered your treat bag. And you'll be able to see the treats from the sides, since the sides are open.
Insert the bag of candy and fold the top over, pulling the top of the bag through. Adhere the bag together at the top and add a ribbon to the bag. Adhere the layers and give it to the birthday girl.
Easy and fun project and you can use your new stamps all over the place. Wait, you don't have any new stamps? Then run over to the a2z Scrapbooking Supplies Store and add some to your cart. When you check out type in CHARK15 to get 15% off your favorites!
Then ink up your stamps and enter our January New to You Challenge to try to win a $25 gift certificate to the store.
Did you know that we are on Twitter, Instagram and Facebook? If you haven't done so already, please follow us on these different social media outlets!! You don't want to miss out on any fun promotions!!