Hello!  Kimberly Wiener here, ready for clean and simple?
Even if you are not a digital wiz, you will be able to enjoy these simple large scalable images.  I added four of a selected butterfly image per 8.5 x 11 sheet and cut the panels to color and add to folded cardstock.  I printed a brush font on black strips and printed several on one sheet.  To add more dimension and keep the cards from looking too flat, before cutting the sentiment strips, I stamped watermark ink directly on the sentiments and added clear embossing powder and heat set.  I colored the images with copics and used double-sided foam mount tape to add more dimension by "popping" up the sentiment strip.
Clean and Simple Butterfly Thank You's
Instant Download Hero Arts Winged Friends Printable PT007 Butterfly Digital Kit –$2.99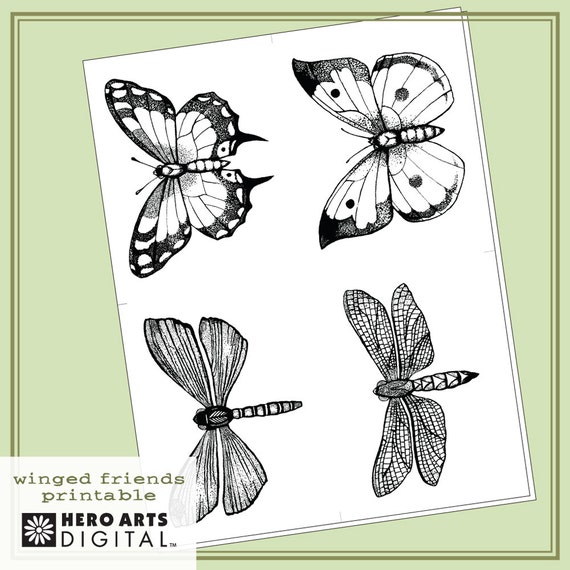 We have your Hero Arts Digital needs on the a2zScrapbooking Site!
If you are comfortable with digital images, with this price, you really CAN'T pass this up!  You also MUST make multiple cards with ALL of the FAB images.  I think that the dragonfly is my next project!   I have a special ETSY Code for you to save 15% off! Kimberly15 which will save you 15% off any purchase of $25 and up excluding shipping.   I'd love it if you visited my blog Wienerhoneymooners as well!
Supplies:
Inks: Other, Tsukineko Versamark Embossing Ink
Embossing Powder:  Hero Arts Clear
Paper: Hero Arts Snow Layering Paper
Copic Markers :
(Orange Butterfly) RV29 Crimson,YR04 Chrome Orange, Y38 Honey, RV69 Peony,  BG02 New Blue, B98 Light Grayish Cobalt
(Green Butterfly) BG11 Moon White, BG13 Mint Green, BG34 Horizon Green, B06 Peacock Blue,  YR18 Sangria, R37 Carmine
(Purple Butterfly) V20 Wisteria, BV02 Prune, V15 Mallow, G17 Forest Green, BG23 Coral Sea
Tape Runner
Heat Tool
Scissors
The designers at a2zscrapbooking blog and challenge enjoy your comments and all of your wonderful creations when you participate!  Thanks for joining us!  Craft on my friends!